In this guide, I'll compare iPage to Bluehost as they are two popular companies with lots of reviews and features. For beginners, choosing the web hosting provider for their websites is not easy. Others can find a long list of services, but, they find themselves lost between details and data.
I'll base this comparison only, on my personal experience with both companies. But also, I'll use real hosting reviews from my readers.
After all that, I'll make sure that you get every single detail, before deciding to use Bluehost or the iPage hosting plans.
iPage compared to Bluehost
The iPage essential hosting plan is their service that puts all the things together. That's what everyone needs on the same account. Unlike other providers, iPage is the cheapest web hosting provider with quality services.
The plan costs $2.25 per month, and that's a huge discount that lets people save money for other things. This is my personal iPage hosting review, and you can use it to understand the web hosting needs for your website, and what you get from the company.
Bluehost is not cheaper than iPage if we compare them rapidly, however, when it comes to upsells, iPage added more marketing offers land add-ons and the customer may end up paying a lot of money for things that he gets in Bluehost or using a simple WordPress plugin.
iPage and Bluehost hosting specifications compared
Use the following hosting comparison table to find the differences between iPage and Bluehost, based on their cheapest plans.
| | Bluehost Basic | Bluehost Plus | iPage |
| --- | --- | --- | --- |
| Yearly Price | $59.4 | $89.4 | $35.88 |
| Migration Service | Free | Free | Free |
| Renewal Cost/year | $119.88 | $167.88 | $119.88 |
| Pre-installed WordPress | Yes | Yes | No |
| Allowed Installs | 1 site | Unlimited | Unlimited |
| Disk Space | 50 GB SSD | Unlimited | Unlimited |
| Support | Good | Good | Average |
| Discount | Go to Bluehost | Go to Bluehost | Go to  iPage |
iPage features
Before comparing the shared hosting plans, let's see the iPage features. I'll make things simple and clear, iPage is a trusted company with good customer support and lots of features.
iPage is a green hosting that uses wind energy to power their data centers, and make them work. Also, they are one of the few companies that offer real unlimited bandwidth web hosting. If you've used other services in the past, you already know that they will limit your account when you start getting good website traffic.
Luckily, it's not the case with iPage, I've used them for a simple blog in the last 4 months, and everything worked normally. So, it's not a surprise that they're a top-rated web hosting service.
I loved the way they add everything in the same place. In one account, you get professional WordPress web hosting and all the other applications. For that reason, everyone gets all the services without wasting time.
Of course, iPage supports PHP and there is an auto-installer software for hundreds of open source applications including WordPress, PrestaShop, and all the others.
The essential iPage hosting plan includes the following features.
Unlimited domain hosting
Unlimited bandwidth hosting
Cheap web hosting
Free domain name
Website builder tool
Free website or blog security and scan
One-click installer software
Unlimited email accounts
FTP
27/7 U.S customer support
1 GB of free cloud storage
Phone support
Ticket support
Email support
Live chat support
The company has the cheapest web hosting plan per year, and that doesn't affect the quality. They offer good quality hosting with unlimited resources. Furthermore, the iPage email hosting is secure and protected by a spam filtering system to offer the highest level of security for your business and sites.
The iPage web hosting services come with US-based customer support, and that means a better quality of help. At the same time, they're considered the best personal web hosting provider. That's for the simple use and management control panel, and the great startup wizard.
Beginners don't need to use advanced tools, they just need to follow the easy setup process that helps to build a simple website. Many iPage reviews talked about the installation and how hard they find it. But, they forgot that they can follow the startup wizard. Or simply, they can use the page builder tool, and everything will be working.
If you need to install WordPress or any other open-source software, use the auto-installer application that does the job professionally. You can't find another professional and discount web hosting like iPage. However, if you're a fan of the cPanel control panel, you will find a little different control panel.
Of course, it's easy to use, and even, better than the standard cPanel. The iPage cPanel is customized and enhanced to offer a better user experience for all, just spend a few minutes trying it and you will love it.
That's without forgetting that the iPage VPS hosting is also recommended, it's secure and reliable at the same time.
This web hosting provider comparison can help to find the limits with each company, and what you get as features and offers. So, remember that you need affordable hosting that suits your needs and saves you money at once.
Bluehost features
Bluehost is a recommended and quality web hosting for small businesses. They offer professional support and a large variety of services. On the other side, their prices are expensive if you compare them to the iPage, especially, for the starter plan. You can also take a look at the other Bluehost packages to compare.
Even, if you consider their professional plan that comes with unlimited hosting, you will find it expensive. Just compare it to the essential plan of iPage, and you will find that you get the same features, with more functions and resources, but at a cheaper price.
I've found that the Bluehost tutorials are just a step by step paragraphs. There is no way to find screenshots and videos there. That's not helpful for beginners who want a simple-to-use tool with step-by-step web hosting tutorials.
At the same time, Bluehost is a reliable web hosting, especially, for its VPS packages. They come with powerful RAM and good uptime. But, they are not good like this powerful VPS hosting.
Of course, Bluehost is a recommended service, especially, for professionals. They have the following features.
Scalable resources
Enhanced cPanel
Protected resources
Free domain name
Cloud Flare added
WordPress hosting
Access through the file manager, FTP, or SSH
Daily blog backup
Customer support by phone, live chat, tickets, or email
Bluehost offers a student web hosting service and hosting for no-profit organizations. Their web hosting packages are depending on the resources. So, the shared plans will be the cheapest, and the dedicated servers are only recommended for high-traffic sites. They cost more than the share plans, and even, the iPage dedicated servers.
Some Bluehost reviews reported some problems from time to time. But, keep in mind that no one can give a real answer if he's not an expert. Some bloggers found the servers slower, and others found them super fast. While the truth is that every shared hosting needs to be reliable and affordable, at the same time.
If you want super-fast hosting, you should consider a managed server like WP Engine that hosts WordPress. Or, the professional web hosting Liquid Web that offers all the premium hosting services that you can imagine.
Blushots versus iPage for shared plans
Because everyone is looking for ways to start a blog these days, it's highly recommended to start with a shared web hosting plan to test things and see how blogging works.
Later, when you think that your blog needs the next level of speed and resources, you can upgrade and not pay for resources you don't need from the beginning. So, let's review the shared hosting features of Bluehost and compare them to what iPage offers for the same type of hosting.
Comparison of the hosting prices
If you want to get web hosting for unlimited domains, you will need to upgrade your account. Or simply, use the "Plus" plan that costs more. You will get good services, but also, you will pay more than what iPage offers.
So, the winner is iPage for low-cost hosting and unlimited resources. But also, you get over $500 of advertising credits with Google Adwords, Facebook, and the Yahoo/Bing ad networks. In terms of budget, you can build an online store and start selling faster with iPage. The complete eCommerce web hosting solutions make things professional for all.
Which customer support is better?
Both companies are good, in my own experience. However, I received some Bluehost reviews that reported a big downtime happened in the past, which affected the Bluehost reliability. That downtime affected customer support also and no one found a way to get help at that time.
On the other side, I don't have any record of a big iPage downtime. But, their customer support is not as good as Bluehost.
For the downtimes, both hosting providers have downtimes. Every company has an average of downtimes to make maintenance and doing technical upgrades. After all that, the Bluehost shared hosting still good if you can pay more for the second plan that offers unlimited hosting.
For specific software installs like WordPress or CMS, Bluehost works better and the support is well educated compared to other web hosts. So, in my idea, it's better to choose Bluehost if you need good support anytime you need it.
iPage and Bluehost: Which one offers faster servers?
Because Bluehost has an optimized infrastructure for WordPress, I found that they have a faster server response time. But, if you know how to speed up your blog and make it fully optimized, then, the iPage will load fast but not as Bluehost anyway.
Bluehost servers, especially the NextGen ones come with the latest CPU technologies, SSD storage, and in-house machine optimization to make things work faster and with optimum performances. Bluehost is known for its server performances, no matter if it's VPS or a dedicated machine, they should work faster than iPage, but I recommend installing a caching plugin like Total cache or any other alternative.
For iPage, it's not that bad, it's still one of the biggest web hosting companies with lots of customers, but if we compare it to Bluehost servers specification and speed, it won't be better.
That being said, you can use iPage for a small site or blog and avoid using lots of plugins or adding big-size images. Most importantly, compress every image before uploading it, which will speed up your site automatically.
Which host is more affordable?
Comparing the hosting prices for different plans is not enough to get a clear idea bout the best service. In today's world of online business, the cost is more important if the customer gets the same, or at least, more features at lower prices.
If you compare Bluehost to iPage in the web hosting plans and prices, you'll find that Bluehost is not cheaper but in the long term, it's better. For a few dollars per month, you get professional hosting with an easier control panel and more features.
On the other side, iPage is cheaper, and offers lower prices but for long-term billing cycles. That's why using iPage hosting plans of 3 years payment in advance should save you money compared to Bluehost.
Bluehost or iPage for WordPress hosting?
WordPress is well-known for hosting WordPress blogs and make them work better, and if we compare it to iPage, it's the kind of web host you can count on for blogging. In fact, Bluehost offer a great control panel that was revised multiple time to make users happy and help them easily manage the site and account.
With iPage, there is no optimized WordPress hosting unless you pay the extra cost of $36/year for something you can get with any other web host at cheaper prices.

Of course, iPage looks cheap for WordPress hosting, but in reality, there will be more billing surprises than what a customer expects and that's because many won't stop and think about the renewal prices of both web hosts. This will take us to the next section of this web hosting comparison guide, it's the renewal prices but first, let's pick the best one for bloggers.
Who is better for WordPress, iPage, or Bluehost?
Because Bluehost offers the best web hosting dashboard and account management for WordPress, it's the right place to start a blog. Moreover, Bluehost servers are optimized for WordPress even the shared account works better than iPage hosting.
There is a server-level optimization that helps running WordPress, PHP, and MySQL better, but everything has limits on shared accounts, so, don't expect super-fast loading time for your blog pages with any shared web host. Choose a VPS if you really want the fastest hosting options for WordPress.
Bluehost shared WordPress hosting comes with:
Automatic WordPress installation
Dedicated WordPress dashboard
Automatic WordPress updates
Free SSL certificate
Extra level of security for WordPress login
Staging environment, so, you can test WordPress plugins, or the theme before going live
Microsoft Office 365 includes for Choice and Choice Plus plans
The Bluehost managed WordPress hosting comes with:
Optimized servers for WordPress
All in one dashboard and marketing center
Email marketing, social media, and SEO tools
JetPack basic, or Premium or Pro depending on the hosting plan
Daily site backups (scheduled)
Malware detection and removal
Free BlueSky expert WordPress hosting access with Ticketing for Grow and Scale plans
No traffic limit
Host unlimited WP sites
Unlimited disk space and more
Here is a screenshot of the Bluehost WordPress managed hosting dashboard: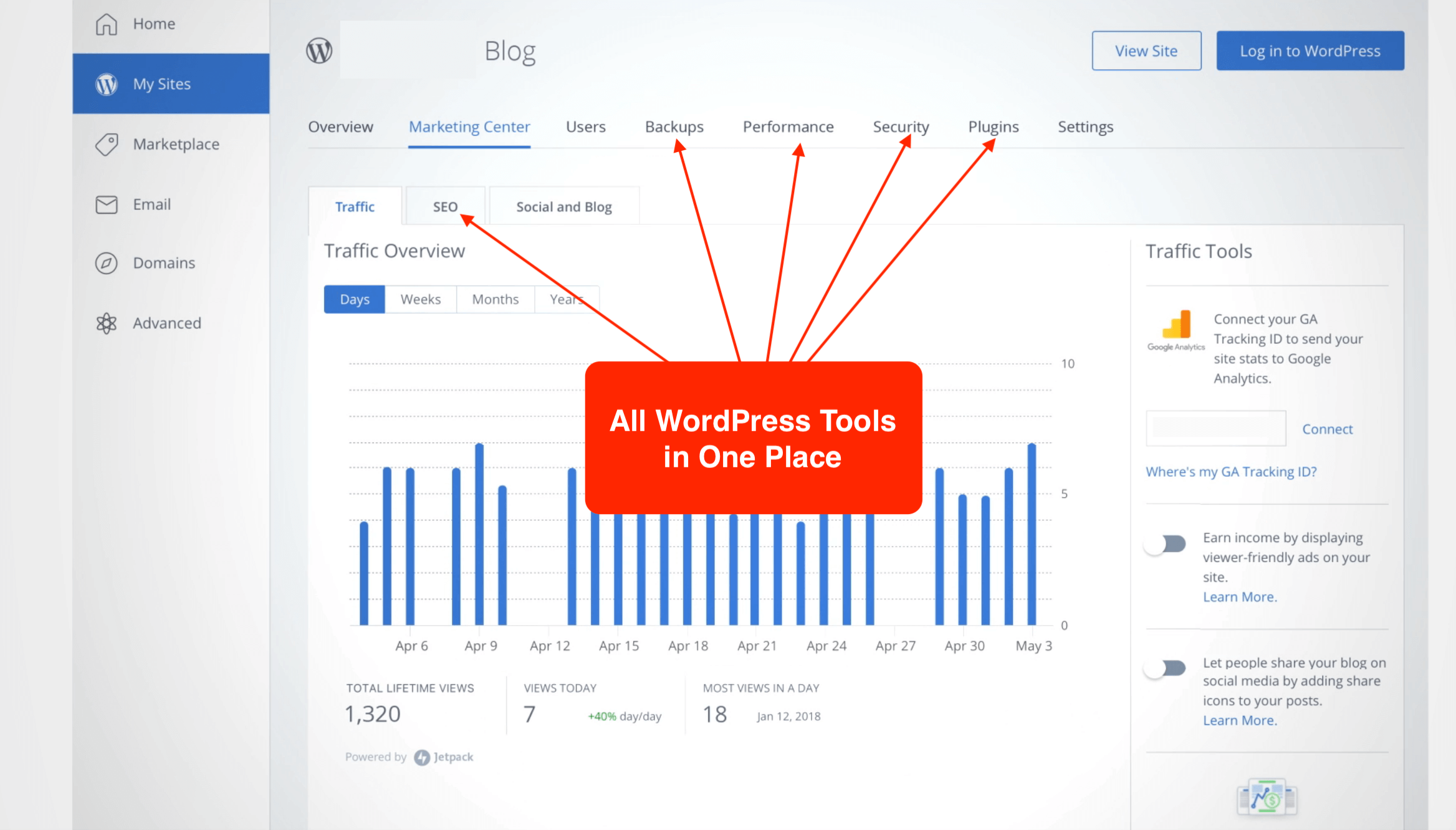 iPage offers simple WordPress hosting, they called it managed because they do the plugin update and of course, you need to focus on SEO, marketing, and everything else, so, don't just count on that.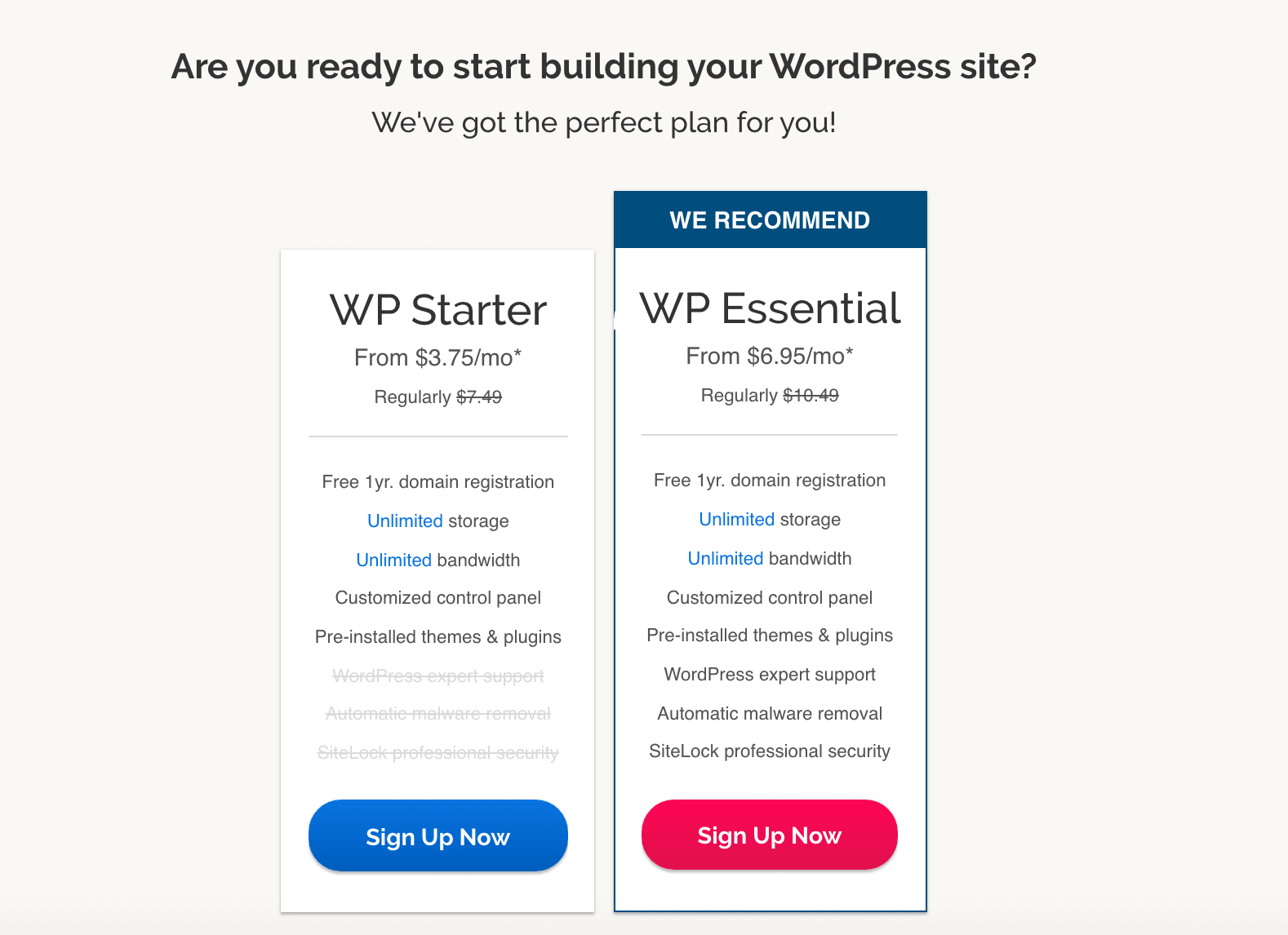 As you can see, iPage WordPress hosting is not really premium like Bluehost.
iPage plans for managed WordPress are:
WP Starter: Nothing exciting in this package
WP Essential: Regular features with SiteLock security that I don't recommend
iPage versus Bluehost in WordPress specific support
Bluehost is the only web host at this time that offers true dedicated support and service for WordPress users who want to get a consultation, recommendation, and support. There is a dedicated team for that, so, when you want to start a blog on Bluehost and save time searching for tools, themes, and plugins, the team of experts can help and make the process of designing your site and make it live faster and secure.
Lots of beginner neglect the fact that any CMS without security is not worth it, so, by adding the recommended security tools and configurations, WordPress work better with Bluehost expert support.
Bluehost has a service called Blue Sky for WordPress, it's billed on a monthly basis and costs $29. The plan covers consultations and other services depending on the level of support a need like the following:
On-demand ticket support
Expert WordPress advice
WordPress backup and restore assistance
Help with content optimization
Optimization and assistance for your landing pages
500 content Contact emails for free for marketing
On-demand chat support
Website design assistance
Help for mobile site optimization
By using these services directly from Bluehost, you'll avoid working with random people; you don't know about and who can mess with your site code and cause big problems. If you know how to update to protect your website using the right WordPress security plugins and how to mane all the site areas yourself, that's good for you, if not, Bluehost will be your best friend.
iPage and Bluehost website builders compared
iPage has a good website builder tool that beginners can use by dragging a dropping element into the page. They can customize the design colors, width, height, etc with a few clicks. So, if you're looking for an easy-to-use website builder tool, then iPage has what you're looking for. The benefits of using such a tool are many, but what we can say is the following:
Easy to use drag and drop site builder
Hundreds of themes to choose from
You can adjust the layout of the pages as you want (but not fully customizable)
No coding required
Pre-built sections and pages
eCommerce functionalities include in the site builder (business plan)
Work better for personal websites or seasonal landing pages
SEO tools
Mobile-friendly designs
PayPal shopping cart integration
Your choice of multiple payment processors
You can add a coupon code (business plan)
Custom favicon (business plan only)
Google Analytics integration
Inventory management
The prices of the iPage site builder tools come for free with every web hosting account but with limited functionalities. So, there is no advanced integration or customizations, however, there is dedicated pricing for the site builder pro that starts at $6.99 for 3-year billing or $10.99 per month if billed once a year. iPage site builder plans are
Basic (free with your hosting plan
Professional average functionaries
Business full eCommerce integration and tools
On the other hand, you have the Bluehost site builder tools, it's Weebly which is well known and more popular than the iPage tool. However, both site builders work well, and of course, Weebly has more users because of its long years of experience, but also the website builder is trusted and used by thousands of users outside the web hosting industry.
iPage marketing tools compared to Bluehost
Building a website without a marketing plan and strategy is not the best scenario for small businesses that look for more conversions, leads and sales.
That's why adding a marketing plan to the website design can help a lot of eCommerce sites, especially. In fact, the annual budget for online marketing is increasing year after year in the US and all over the world. Facebook marketing generates millions of dollars for companies that advertise and bring customers to their online stores.
Bluehost and iPage offer web design and marketing services, and each one of them has different pricing that's not fixed of course and that's why expecting how much designing a website or marketing will cost won't find a good answer.
Bluehost and iPage added a "request a quote" on their marketing offers landing page, so, we can't say exactly the price for these packages, but what it's clear after all is that iPage offers more service than iPage. There is SEO, SEM, web design, emails, consultations, local business optimization, and more.
Bluehost and iPage dedicated servers comparison
Using a dedicated server for WordPress is super exciting for those who want to experience top-notch performances and security. But all that can cost a lot of money if you choose a higher level of server resources than what your site needs.
For heavy traffic sites, Bluehost's dedicated server works well as it can handle millions of visits without issues. Unlike iPage, Bluehost dedicated servers come with 4 cores of 2.3, 2.5 or 3.3 GHz with is good enough to make the site super fast. The maximum server RAM you can get with Bluehost is 16 GB and the maximum bandwidth is 15 TB.

Bluehost offers 3 plans for dedicated hosting and they are the following:
Standard: 4 GB RAM and cost $79.99/month
Enhanced: 8 GB RAM and costs $99.99/month
Premium: 16 GB RAM servers at the cost of $119/month
Please note that all the Bluehost dedicated hosting plan includes free access to the dedicated elite team of experts with high priority. And this exclusive support line is available 24/7 by phone or live chat.
On the other side, iPage offers dedicated hosting plans with cPanel, pre-installed scripts, and managed support. So, it's like having priority for getting assistance, but for server specifications, that's another thing.
In reality, iPage dedicated servers are expensive compared to Bluehost, so, there should be something of value that makes the prices higher, but surprisingly, nothing exceptional is there.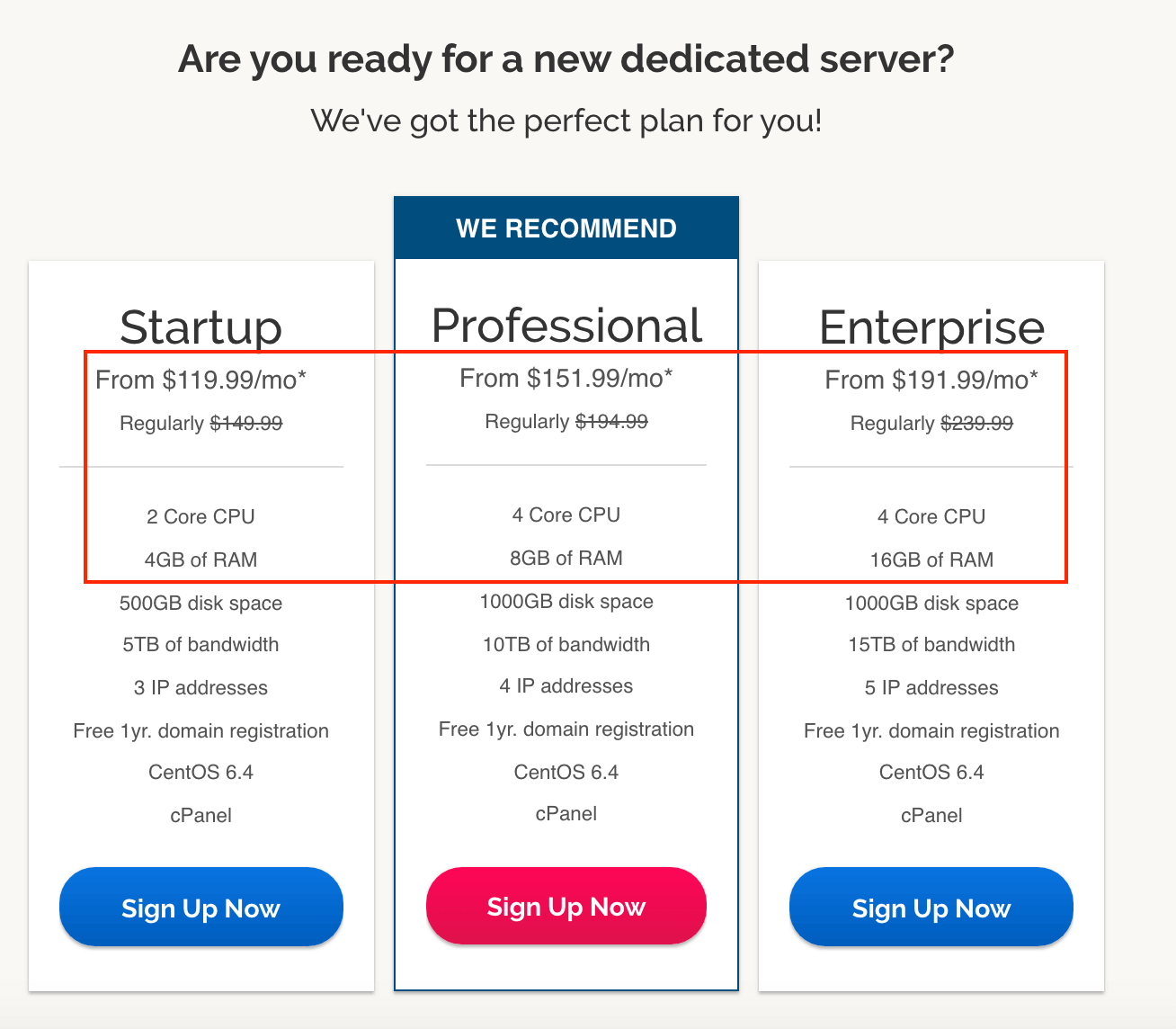 Here is what iPage dedicated hosting plan offer:
Startup: 4 GB RAM servers for $119/month
Professional: servers of 8 GB Ram cost $151/m
Enterprise: The 16 GB dedicated hosting cost is $191/month
If we look closer and compare the Bluehost dedicated hosting plans to iPage, we'll find that Bluehost offers 16 GB RAM servers at the cost of $119 which is exactly the same price as the iPage smallest dedicated plan of 4 GB, so, you know what to choose.
Bluehost vs iPage eCommerce hosting comparison
Hosting an eCommerce website needs extra levels of security and speed optimizations every second count these days. That's why opting for VPS or a Dedicated server is better than using regular shared hosting with any provider.
That said, Bluehost offers better shared hosting that can work for small business websites and online stores. The Choice Plus and Pro plans of Bluehost work better in terms of speed and optimization, but their VPS is the best option for selling online with your own websites.
iPage offer installer software for eCommerce applications, so, there is no need to waste time learning how to build a site on a shopping cart system like the following:
OS Commerce
Prestashop
ZenCart
TomatoCart
OpenCart
If you prefer using iPage for hosting an eCommerce site for the above shopping cart solutions, then, you can start using it, but the control panel is not that attractive as what Bluehost offers. In addition, there are no clear plans for online stores, everything starts from their shared hosting package.
Bluehost or iPage for WordPress WooCommerce?
iPage offers basic eCommerce hosting with their website builder tool, so, it's not that powerful as using Woocommerce, but it works. Also, iPage does not offer eCommerce optimized web hosting, so, what you can do is use one of their dedicated servers and build your own store and customize everything.
On the other side, Bluehost does a good job for eCommerce. In addition to all the plans that Bluehost offers, there is a dedicated Woocommerce section for online stores, if you need quality Wooceeomen hosting for WordPress, then, Bluehost is what you're looking for.
There is automatic WooCommerce plugin installation, optimization, SSL, and shopping cart integration with PayPal and dozens of payment options.
Here is what Bluehost WooCommerce hosting offers:
Hundreds of storefront designs
Free call setup of 2 hours
SSD storage
Instant integration
Quality plugins to add with one click
Inventory management so you can remove products or add others easily
You can add custom tax rates, shipping fees, etc…
Options to create coupon codes and set up promotions for your online store
The dedicated IP address for your store
12/7 customer assistance
One dashboard to manage your online store
Unlike Shopify, this Woocommerce hosting is more reliable and easier
Comparing Bluehost and iPage for website management
Managing a website is not only to upload and download files or add content but once you have a problem, you should have access to the site files using FTP or SFTP.
Bluehost does offer good tools for that, so, you can connect using SSH, also, you can optimize the site content by compressing all the text, HTML, and CSS. So, you save up to 80% of the page size, which means a faster loading time.
As I said earlier, the iPage control panel is not gorgeous like Bluehost, so, you may not like it and if you do, make sure you see what tools they offer directly from your account. But anyway, the is FTP to edit your site files using software like FileZilla or others.
For account management, Bluehost is on the top list of the easiest web hosts to use, users can add more resources to their shared hosting account with one click. In addition, you can add VPS or even a dedicated server to your account without the need for separate login details, all you need is one master password to manage all the accounts under your main hosting package.
iPage does not have those features that are helpful to create a website and host them for clients in the case of web agencies and freelancers.
The WooCommerce hosting plans that Bluehost offers are:
Starter: Single online store for the cost of $6.95/month
Plus: Unlimited online stores with unmetered disk storage, this cost $8.95/m
Pro: Use this plan for an unlimited number of online stores, unmetered space, and SEO tools included at $12.95/month
Which is better for domain names, iPage or Bluehost?
This is one of the things that I personally don't like about web hosts when they claim a domain is for free when it's not in reality. iPage lets you get the domain name for free and build a website, a blog, or whatever, and that costs nothing if you read their prices, but guess what?
You should pay the domain privacy (WhoIs protection) fees that cost $9.99 the first year and then $12.99 when you renew the hosting account. Don't you think that that domain privacy is really close to the domain prices with big domain registrants?
Yes, it's, and many trusted domain name registration companies offer free domain privacy for a domain that costs $8 or so per year, and one of these examples is NameCheap.
The same thing is valid for Bluehost, the domain name is free when you see the offer, but once you sign up you sat adding your details, you'll find the domain name WhoIs privacy protection checked for you, not for good reason, but to add an extra $11.88 per year which is also more expensive than the cost of a domain name with a registration service.

For domain name management and DNS and speed, there are no special things with web hosts, they offer basic tools to manage your domain and create redirects, subdomains, A, TXT, or CNAM records, etc…
So, paying for domain privacy when it should be free is not a big deal for customers. It's just a marketing thing all in all for both Bluehost and iPage and you have the choice to register your domain with them or follow my recommendation which is always buying a domain name from a big registrar separately.
That way, you have total control over DNS, and WhoIs without the need for third-party services that resell the domain name in reality.
Also, when you want to move your website away from Bluehost or iPage hosting, you don't have to ask them for the domain name that needs permission for transfer as they have registered it on your behalf.
You don't have to get the free domain from iPage or Bluehost to buy web hosting plans, you can skip that and then, link your domain to their hosting domain servers or IP address and everything will work for you.
iPage vs Bluehost: The winner provider
I'll make it easy, if you have a small, or even, medium website or blog and you're not receiving thousands of daily visits, then, the Bluehost shared web hosting will be the best choice for you and your business. They have also optimized WordPress hosting, and you don't have to think about installs as the software will be added upon signup for free.
On the other side, if you have a bigger size website, then, Bluehost and also iPage can be somehow a solution, but with limitations. For that reason, I recommend HostGator, they have powerful servers and SSD infrastructure that works faster, better, and more secure thanks to the cloud network and a large number of users in the US.